You know the old saying, "when life hands you lemons, make lemonade."
I am sure than in light of the economy, the weather, and possibly the fact that many of us have had one too many parties and/or cookies over the past month, many of us are feeling down. Call it the post holiday blues.
Here are three people who have conquered their lemons and gone on to make lemonade.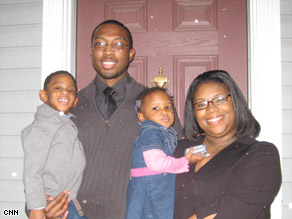 Ebony Sampson and her family were down on their luck after her husband became ill and could not work. A friend of hers wanted to help so, like many of us, she turned to blogging- not necessarily with the intent to make money.
"It's a personal miracle," she says of how their home was saved.

With the power of the blogging in addition to the holiday spirit of giving, the Sampson family received over $11,000 in donations. Ebony was raised by her grandmother after she lost her entire family in a car accident. Her husband became ill and lost his job last summer and she became the sole bread winner, while pregnant.
Within a matter of time, the creditors came calling on the family and they were facing foreclosure unless they could come up with $10,000 in the next two weeks to bring their mortgage up to date. To the rescue came her friend, a self-described geek, who had been blogging for years.
Within 24 hours, her blog had raised $1,000.
With every donation, the total raised ticked higher and higher on Grier's blog. The next morning she checked her PayPal account and was stunned to find the balance had ballooned to $10,900. Before they knew it they had reached $11,032.
Did you hear about the women who was buried in snow for 3 days?

CNN reported that the housewife went missing after she left her home to go grocery shopping. She was buried in snow for 72 hours when a rescue dog found her. She's in serious condition, being treated for hypothermia, severe frostbite. The Dog, who had been rescued himself, will be rewarded with a T-bone steak
Elie Wiesel survived the massive atrocities of the Holocaust to devote his life to making the world a better place for everyone.
Well, now word is out that his foundation was one of many hit by the the alleged fraud scheme run by Wall Street baron Bernard Madoff. The Elie Wiesel Foundation for Humanity lost more than 15 million dollars — nearly all of its assets –.
"We are writing to inform you that the Elie Wiesel Foundation for Humanity had 15.2 million dollars under management with Bernard Madoff Investment Securities," said the foundation, which aims to combat anti-Semitism, on its website. This represented substantially all of the Foundation's assets," it said."We are deeply saddened and distressed that we, along with many others, have been the victims of what may be one of the largest investment frauds in history."
The foundation "remains committed to carrying on the lifelong work of our founder, Elie Wiesel. We shall not be deterred from our mission to combat indifference, intolerance, and injustice around the world."
Wiesel, 80, a Nobel laureate and prolific author who survived the Holocaust, created the foundation some 20 years ago to foster international dialogue and youth programs to teach tolerance.
Prosecutors say Madoff confessed to losing upwards of 50 billion dollars over years of running a pyramid scheme, where new investors were secretly fleeced to pay returns to earlier investors. What can you do with 50 billion dollars- especially when you are held up in your NY penthouse with a lovely ankle bracelt?
On the topic of hope, in case you missed it….
Google+ Comments