Like many baby boomers out there, I wanted to be a Brady.
To the eye, the Brady's were a nice family, lived in a nice house, and solved all of their problems in 30 minutes or less. The girls all had blond hair and blue eyes and they were all thin and tan. The Brady family went on the neatest vacations too. Brady kids never had to put up with the hair pulling and name calling that I had to incur from my sibs on a vacation. Who knew at the time that dad was gay and unhappy with the lame script and that brothers and sisters were secretly in live?
Welcome to the new melinium.
Now I want to be an Obama. You couldn't write a sitcom script better than this. Mom is a hard working beautiful intellegent woman who worked her way up through an ivy leaque education and law school (something Carol Brady never would have thought about Dad is multi-ratial and worked his way up through an ivy league schooling to become the first bi-ratial President of the United States of America.
Talk about cool vacations.
CNN got pictures of the vacationing Obama family. The Obama family members and a few friends went to Hawaii's Sea Life Park. Hmmm, I want to go.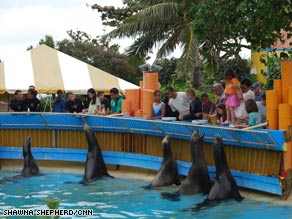 The group, sans me, caught a dolphin show on Friday before visiting a touch pool and the sea lion exhibit, where it was feeding time. In addition to daughters Sasha, 7, and Malia, 10, the group included Obama's half-sister Maya Sotero-Ng, her husband, daughter and friend Eric Whitaker.
After the park visit, the Obama group was joined by the press pool — which arrived at the park about an hour after the Obamas but was not allowed in — as they stopped for a sandwich and shaved ice. The reporters declined an offer from Obama to buy them some shaved ice.

Stumble It!

Google+ Comments