Yesterday was my birthday. I know, that is nothing special, especially at my age and taking into consideration that everyone on this planet has a birthday.
However, I was pleasantly surprised by the wonderful people who stopped by my blog and my Facebook page to wish me a wonderful birthday. You do not even know me but, you took the minute out of your day to do this. It proves that indeed there are good and kind hearted people out there.
Thank goodness that the crappy economy, less than stellar politicians in the news (I live in Illinois) and the fact that the Bears are 8-6, there is some good stuff going on.
Here is more good stuff;
Vice President-elect Joe Biden beat his new boss to the puppy adoption club.
Who knew? Biden's wife, Jill, promised him a dog if he and Obama got elected. Biden found the as-yet-unnamed pup, a three-month old male German Shepherd, in a breeder's kennel in southeastern Pennsylvania, the area's Daily Local News reports.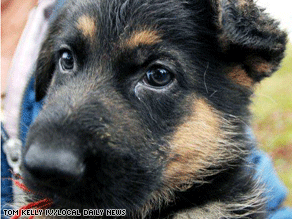 Stumble It!

Google+ Comments