Is it naughty or nice?
Blagojevich picked as naughtiest politician –
A new national poll suggests
Illinois Gov. Rod Blagojevich could be on the top of Santa's naughty list.
Fifty-six percent
of those questioned said Blagojevich, who has been arrested on corruption charges, was the naughtiest politician in 2008. Blagojevich is accused of attempting to sell President-elect Barack Obama's former Senate seat. Second on the list was Eliot Spitzer with 19 percent of the vote .
read more
Naughty or nice (or gross?)?

A Saudi judge
refused to annul a marriage between an 8-year-old girl and a 47-year-old man. The girl was forced into the marriage
by the girl's father to settle his debts. The judge, dismissed a petition brought by the girl's mother because she "is not the legal guardian of the girl."
Naughty or nice?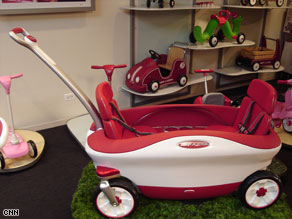 This wagon, called the Cloud 9, is equipped with enough high-tech bells and whistles to make the family minivan jealous. This new wagon is outfitted with 5-point safety harnesses, padded seats, cup holders, foot brakes and fold-out storage containers, the sleek, curved Cloud 9 has every family covered for a ride through the park. But that's just for starters.There's a digital handle that tracks temperature, time, distance and speed — just in case energetic parents want to track their split times around the playground. And there's a slot for an MP3 player, complete with speakers, for some cruising tunes.
Naughty or nice?
Lance Armstrong is going to be a daddy again. He and his girl friend are expecting in June.
The wonder man was diagnosed in 1996 with testicular cancer that had spread to his brain, lungs and abdomen.He underwent treatment for the disease and was able to return to cycling, eventually winning seven consecutive Tour de France's. Chemotherapy left him unable to have children. He and his former wife had three children using sperm the cyclist had donated before the treatment.
Armstrong has had seven Tour de France wins in addition to his Lance Armstrong Foundation (livestrong.org), which supports people affected by cancer. Armstrong founded the organization in 1997.
Things that just plain suck!
The number of U.S. workers filing new claims for jobless benefits jumped by 30,000 to a 26-year peak last week according to new government data.
Travel weather- Hundreds of holiday travelers spent the night in airports or faced delayed or canceled flights. Highways are plaqued by snow and ice as storms kept up their assault on northern states. The National Weather Service said up to 4 inches was possible in Chicago. The Northwest faced more snow and sleet early Wednesday, with up to 20 inches in the Cascade range. And more snow and ice spread over the Northeast.

Things that remind you that there is good stuff in this world.
NORAD- The 'official Santa Tracker' in the US. Since 1955 these kind folks have been keeping us all updated in the whereabouts of Santa. AKA the North American Aerospace Defense Command , NORAD monitors air and space threats against the U.S. and Canada .
According to NORAD, Santa began his latest flight early Wednesday at the International Date Line in the Pacific Ocean. Historically, Santa visits the South Pacific first, then New Zealand and Australia. NORAD points out that only Santa knows his route. Last year, NORAD's Santa tracking center answered 94,000 calls and responded to 10,000 e-mails. About 10.6 million visitors went to the Web site, which can be viewed in English, Spanish, French, Italian, German, Japanese and Chinese.
TOYS for TOTS-
The mission of the U.S. Marine Corps Reserve Toys for Tots Program is to collect new, unwrapped toys during October, November and December each year, and distribute those toys as Christmas gifts to needy children in the community in which the campaign is conducted.
GOAL (the Marines are such organized people too!):
The primary goal of Toys for Tots is to deliver, through a shiny new toy at Christmas, a message of hope to needy youngsters that will motivate them to grow into responsible, productive, patriotic citizens and community leaders.
To find out more or to donate online , check out their site.
Stumble It!

Google+ Comments