There is outrage south of the US border. The latest issue of Playboy mag. in Mexico features the 'Virgin Mary'.
Duh, Playboy, you do not mess with religion south of the border. Period.
Apparently, Playboy found out the hard way.
Yesterday Playboy magazine issued an apology for the cover of its Mexican edition. The model is an Argentine model in what may or may not be a depiction of the Virgin Mary. Um, well it is the holiday season.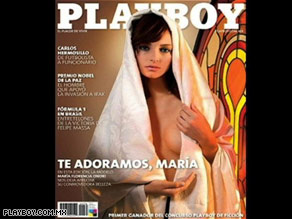 Playboy Mexico seems to think that the cover may not be the Virgin Mary despite the fact that it was printed just days before the Feast of the Immaculate Conception and the Feast of Our Lady of Guadalupe. FYI, there are both Catholic holidays centering on the Virgin Mary.
Poor Playboy.
Hef more or less gets dumped by his three your girlfriends.
Hef's daughter Christie, steps down
Playboy stock has plummeted in the past year. Playboy stock, is valued just under $2 a share, down from $11 a year ago. Is $2 a share even worth the paper it is printed on?
Playboy has been hit hard by an aging Playboy himself (born in 26=82!), a recession and the internet. Oh, and the fact that we women do indeed have brains.
Stumble It!

Google+ Comments