I just do not get this. Yep, Illinois Gov. Rod Blagojevich seems to think that he is innocent of the federal corruption charges that have landed him in hot water. He is now vowing to fight and stay on the job, despite calls for his resignation. The media is reporting that Blagojevich wants us tax payers to foot the bill for his defense.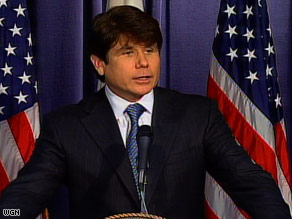 "I will fight, I will fight, I will fight until I take my last breath. I have done nothing wrong," Blagojevich said in a brief news conference in Chicago. "I'm not going to quit a job that people have hired me to do."
I don't get why there could even be reasonable doubt about the Caylee Anthony issue.
According to Jan Garavaglia, medical examiner for Orange County, Florida, the cause of the child's death is listed as homicide by undetermined means. She said she does not expect enough additional evidence to surface for that finding to be revised. 
Is there a reason why Casey seems so removed from the facts of this case?
I'd be in tears if my child were missing or my child's remains were found in a bag in the woods.
Your marriage is not my problem.
Seriously, I know that there are people who feel  they are right on both sides concerning gay marriage but, to what extent is it worth the battle ? Sponsors of a California ballot measure that banned same-sex marriage are seeking to nullify thousands of marriages performed between gay and lesbian couples. Proposition 8 amended the state constitution to define marriage as between one man and one woman. Opponents argue that the amendment cannot be applied retroactively. You mean they have nothing better to spend their time and money on? Is there no recession in California? What makes a bad heterosexual marriage any better?
Stumble It!

Google+ Comments