Just when the mid-January Blues start to show their face, we are reminded of stories that make us grateful.
Note to self; when in New Hampshire during a snowstorm, stay off the roads.
That's what the drivers of more than 50 vehicles are saying right now.-
There was a massive pileup on a New Hampshire interstate closed the highway in one direction for five hours.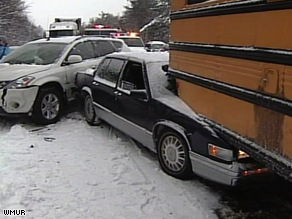 There were no fatalities and no apparent life-threatening injuries according to Lt. Chris Aucoin of the New Hampshire State Police.

TACO TACO TACO Wedding Bells
In Normal (?) Illinois, there was a wedding at the local Taco Bell .
You gotta love this. The employees displayed hot sauce packets labeled with the words "Will you marry me?" They decorated the restaurant with streamers and balloons. During the entire ceremony customers were still ordering their tacos.
The bride wore a $15 hot pink dress and the entire wedding cost about $200. Several dozen guests looked on as the couple's friend. The couple had met online and the 'Minister' was ordained online.
She wants to marry a younger man.
A 107-year-old Chinese woman is feeling the pressure for the first time.
"I'm already 107 and I still haven't got married," the Chongqing Commercial Times quoted her saying. "What will happen if I don't hurry up and find a husband?"
(She won't have kids?)
What the heck took her so long?
Sources say that she was afraid to marry when she was young has decided to look for her first husband and hopes to find a fellow centenarian so they will have something to talk about.
Local officials have said they are happy to help Wang search for a 100-year old groom, and suggested her family get in touch with old people's homes to find candidates.
You go girl!
Stumble It!

To comment….click on the number that is next to the title of this post or click on the title of the post itself.
thanks
Google+ Comments