In a week from today, the US will have a new leader, Barack Obama.
The nation as a whole is more than excited at the premise of Change. Not much worse can go wrong after the nation has been bottomed out with bankruptcies, bailouts, war, and so much more.
On Tuesday, we will be awakened by a 'partially' white knight.
Barack Obama.
It's not necessarily the person as it is the entire package summed up in the word "hope".
On Tuesday, 2,000,000 people are expected to invade D.C.
That's what they are expecting.
Based on their latest estimates, congressional officials organizing the presidential inaugural expect 2 million people. These people will have to deal with extra-long security lines and bitter cold to witness Barack Obama being sworn in as the first African-American U.S. president.
The suffering the spectators will endure to be part of history;
Officials issue 240,000 tickets for inauguration but set up only 28,000 seats
High temperature for Inauguration Day forecasted to be 30 degrees
Nearly $3.5 million spent on inauguration stage, chairs and fencing
And to get there, what a pain it will be. Police will be shutting bridges across the Potomac River into Washington, along with a huge chunk of the downtown area.
Two of the major routes coming into the city — Interstates 395 and 66 — will be closed to inbound traffic, at least for private vehicles.
People will be checked for items. What not to bring? Firearms, ammunition, explosives, weapons of any kind, aerosols, supports for signs and placards, packages, coolers, thermal or glass containers, backpacks, bags exceeding size restrictions, laser pointers, animals other than helper/guide dogs, structures, bicycles and any other items determined to be a potential safety hazard."
Items surrendered to security officials will not be returned.
The journey for the President to be
Spectators are not the only people with a journey to DC.
The Great Inaugural Journey to DC
Pres. elect Obama will kick off his journey at a town hall meeting in Philadelphia around today before boarding the train for his 137-mile journey.
The train will take its first "slow roll" in Claymont, Delaware. The president-elect will wave at residents gathered near the tracks.
The

train will pick up Biden and his family in Wilmington, Delaware.

Obama and Biden are also expected to make brief speeches while there.
The train will then "slow roll" is expected to be in Edgewood, Maryland, 25 miles northeast of Baltimore, Maryland.
The tour follows the final leg of the train route taken by Lincoln. Law enforcement officers from 40 jurisdictions will provide protection for the train.
The Obama-Lincoln Connection
Obama has a Lincoln Connection
Obama will be the first president to use the Lincoln Bible for his inauguration since Lincoln used it in 1861. Inauguration organizers have said Obama's inaugural theme, "A New Birth of Freedom," was inspired by Lincoln's Gettysburg Address.
Obama ,who hails from the Land of Lincoln , has reminded us about the similarities between himself and Lincoln
"As Lincoln said to a nation far more divided than ours, 'We are not enemies but friends. … Though passion may have strained, it must not break our bonds of affection,' " Obama said.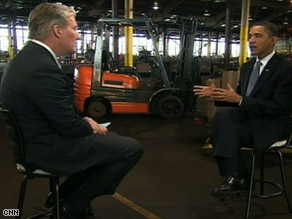 Barack Obama tells CNN's John King that it was "tough" for him to request the additional bailout funds.
"I mean, I think personally he is a good man who loves his family and loves his country," Obama said in an exclusive interview with CNN's John King.
Asked if there was anything he wanted to take back, now that he has spent more time with the president, Obama praised Bush's team for helping with a smooth transition and said part of what America is about is being able to have "disagreements politically and yet treat each other civilly."
Obama also said he thought Bush made "the best decisions that he could at times under some very difficult circumstances.
Can't get enough of the man to be in charge?
In his final weekly address before assuming office, President-elect Barack Obama speaks about the upcoming Inauguration activities, a tradition at the heart of our democracy.
This year's inauguration will be the most open and accessible in history. Thousands of people will come together—not just in the capital, but across the nation—to serve their communities and ring in a new era of change in America.
Stumble It!

To comment….click on the number that is next to the title of this post or click on the title of the post itself.
thanks
Google+ Comments