I have spent plenty of time with the marching band after years of being a band mom.
This is why this story caught my attention.
In case you do not know, a drum major is the person who leads the band in a parade. They are the person who is usually carrying a mace- the baton-looking thing.
Here is a story about a drum major who more or less 'qui't the band because he was reprimanded for not keeping his eye focused on what was in front of him. You see, this drum major was passing by a very important person- Barak Obama- and it was during the inauguarl parade. The drum major gave the new President a salute of respect. You see, he too was caught up in the Obamamania.
Now, the Ohio man who was suspended as the drum major of a band for giving President Obama a nod during last week's inaugural parade says that he is done.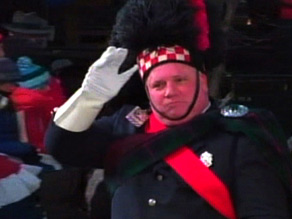 John Coleman resigned from the Cleveland Firefighters Memorial Pipes & Drums a week after the parade in Washington.
"It's come to a point where I don't want embarrassment anymore between the pipe band and myself," Coleman, who is a firefighter, told WEWS on Tuesday.
He told the local news that as the band was marching past the grandstand where the President sitting, he made eye contact with the president.
"Contact was made with our eyes both together and he smiled and waved at the band," he told the local TV station. "And just as a gesture, I nodded my head. I gave him a slight wave and went on.
His parade leader responded by saying
" We had gone over and over time and again with everyone in the band that this was a military parade, Protocol and proper decorum had to be followed at all times. Unfortunately, John chose to ignore that."

Coleman had been suspended from the band for six months.

Wait, military parade? He nodded at the Commander in Chief. Are you kidding me?

Stumble It!

To comment….click on the number that is next to the title of this post or click on the title of the post itself.
thanks
Google+ Comments