No sympathy for Brown and Kudos to Rihanna for staying strong!
Domestic abuse, which includes harming your girlfriend, is WRONG!
…………..
AND…. remember yesterday's post about the NY Post?
In their own way, they seem to think thye have apoligized.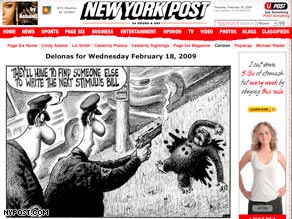 A day after publishing a cartoon that that many say was racist and anti-Obama, the New York Post has 'apologized' in a statement on its Web site — even as it defended its action and blasted some detractors.
Wednesday's Page Six cartoon – caricaturing Monday's police shooting of a chimpanzee in Connecticut – has created considerable controversy.

It shows two police officers standing over the chimp's body: "They'll have to find someone else to write the next stimulus bill," one officer says.

It was meant to mock an ineptly written federal stimulus bill.

Period.

But it has been taken as something else – as a depiction of President Obama, as a thinly veiled expression of racism.

This most certainly was not its intent; to those who were offended by the image, we apologize.

However, there are some in the media and in public life who have had differences with The Post in the past – and they see the incident as an opportunity for payback.

To them, no apology is due.

Sometimes a cartoon is just a cartoon – even as the opportunists seek to make it something else.
……….
LASTLY,
What is this world coming to???
Some Doosh robbed some girl scouts of their cookie money. Not cool doosh!
Two little girls and their troop leader were robbed outside a San Antonio store Wednesday night. The Brownie troop leader became emotional as she told the News people how she witnessed the thief steal from the two 3rd graders.
"They didn't take it from me. They took it from my girls," the troop leader said."We were finishing up our shift and we were packing up our cookies," explained the girls' troop leader. "I didn't even think he was looking at the money," said told News 4 WOAI. "I thought he was leaning over to look in the box, like 'What do you have in there?'"She said then all of a sudden, the man snatched their bag of money and ran off. He got away with about $250. The troop leader chased him, but he got into a car with a woman and drove off."The one thing that I was screaming was to call the police, and I just kept yelling out the license plate number," the troop leader recalled.
And for the person, and for many others that I have blogged about (former Gov Blago, Bolingbrook Man whose wives keep disappearing or winding up dead, etc…) I will now introduce to you, my new award.
The Douche Bag Award.
Congratulations to the San Antonio man who robbed the Girl Scouts of their Cookie Money for being the first to officially receive my award!
Stumble It!

To comment….click on the number that is next to the title of this post or click on the title of the post itself.
thanks
Google+ Comments