New York Post…WHAT WERE YOU THINKING????
The New York Post ran this editorial cartoon yesterday. Many are saying that it is offensive, careless and racist.
The reason why they think it's offensive? The subtle message, some say is more than clear, comparing President Obama to a chimpanzee.
In the cartoon, a cop is holding a smoking gun and, with another officer, looking at a bullet-riddled body of a chimpanzee. The caption reads: "They'll have to find someone else to write the next stimulus bill."
In a statement to The Associated Press, Col Allan, the Post's editor-in-chief, said the cartoon was an obvious reference to the story of a chimp in Connecticut that viciously attacked a woman and was killed by police.
Wow, more Octuplet stuff…. Now its an Octuplet Forclosure?
You know the home where Octuplet mom plans to raise her 14 children?
Seems as if grandma owes over $20,000 on it and is at risk of foreclosure according to a local TV station. Records show a notice of mortgage default was filed Feb. 9 against the home.
The three-bedroom house could be sold at an auction beginning May 5, documents say.

Remember the WWII Vet who Froze to death because his electricity was cut off??
Marvin Schur was chronically late in paying his utility bills during the two years before he froze to death at age 93 in his home in Bay City, Michigan.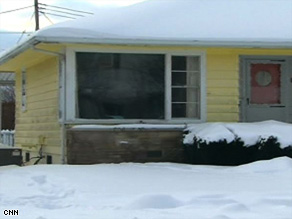 The temperature in Marvin Schur's home was 32 degrees when his body was found, a medical examiner said. A review of records by city workers reveals Schur, at one point, went to his own bank to make back payments, but was unable to do so because that bank was not an approved pay station for the city.
"Maybe he had dementia. I don't know that. We may never know," City Manager Robert Belleman told CNN.
Stumble It!

To comment….click on the number that is next to the title of this post or click on the title of the post itself.
thanks
Google+ Comments