Remember the case of Chandra Levy?
Chandra was an intern at the Federal Bureau of Prisons in Washington, D.C.
She who disappeared in the spring of 2001 and her body was found in a nearby park.
This was the investigation that uncovered her affair with then U.S. Representative Gary Condit which led to his leave from Congress.
Police say they are close to making an arrest in the Chandra Levy murder case.

Wikipedia photo
Police contacted Levy's parents informing them the arrest was imminent according to a San Francisco TV station, KGO, who also quoted a Washington television report that said police were pursuing an arrest warrant for an inmate in the D.C. prison system.
Remember a few months ago when an Arizona Boy was Arrested for Shooting His Father?
The 9-year-old boy faced two counts of premeditated murder in the November deaths of his father and another man
In a deal with prosecutors and with the objections of his mother, the boy pleaded guilty Thursday to negligent homicide in man's death and the murder charge in his father's death was dropped.
And…..how time passes by…….
Socks, the cat who lived with his family in the Clinton White House, was euthanized Friday after months of treatment for cancer. That socks. (sorry)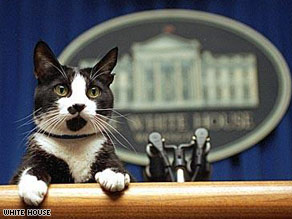 Socks was adopted by Chelsea Clinton when her father was governor of Arkansas. He was born in 1989 . Veterinarians say he was probably either 19 or 20 years old.
The cat had been losing weight since November and had been treated at the clinic and had been suffering from a cancer in his mouth and jaw.
Since the Clintons left the White House in 2001, Socks had lived with Betty Currie, former President Bill Clinton's secretary. The Clintons were known to have visited Socks, and Currie, when in Washington.
Stumble It!

To comment….click on the number that is next to the title of this post or click on the title of the post itself.
thanks
Google+ Comments