In case you have not heard…like your electricity has been out or you've been on another planet, "Slumdog Millionaire" took home eight Oscars on Sunday night. "Slumdog Millionaire"is a "rags-to-riches" storyline with wide appeal. It takes place in Mumbai's showcasing the poor with aspirations.
To us in the US, this movie has little draw. It was made in 'Bollywood' and features no big named Hollywood stars. It's a breakthrough for Bollywood.
Just what is Bollywood?
Bollywood is a name for India's Mumbai-based Hindi language film industry.
Bollywood, releases nearly 1,000 films annually. The first film to come out of Bollywood was a silent one released in 1913.
Duke makes History
The U.S. Mint says in introducing the latest in its line of state-themed quarters and this one features Jazz legend Duke Ellington. Duke is the first African American to appear on an American coin.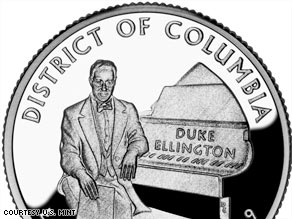 Edward Kennedy "Duke" Ellington received 13 Grammy Awards and was a pioneer in jazz, according to his official Web site. Ellington composed more than 3,000 songs, including the notable "It Don't Mean a Thing If It Ain't Got That Swing," a song that helped usher in the swing era of jazz. He died in 1974 at age 75.
Ticked off about losing your followers?
Well, a new study says that anger can kill you. Anger and other strong emotions can trigger potentially deadly heart rhythms in certain vulnerable people . This is according to researchers from Yale University whose study appears in the Journal of the American College of Cardiology .
We are watching more TV….
The Nielsen Co says that Americans watched more television than ever .
The average American older than 2 years watched television for 151 hours per month, Nielsen said. That was up from 146 hours in the same period the previous year.
Recorded TV was up to 7 hours from 5 hours the year before thanks to TiVo etc.
And, we watch video on the Internet and on cell phones, while we can still afford to do so.
Stumble It!

To comment….click on the number that is next to the title of this post or click on the title of the post itself.
thanks
Google+ Comments