Why are prison escapees always not so pretty?
Earlier in the week there was a prison break in Indiana. Now, the Bureau of Alcohol, Tobacco, Firearms and Explosives have joined the manhunt for three escaped Indiana convicts .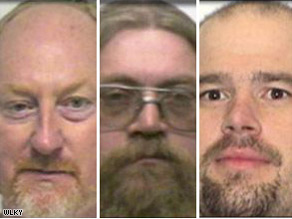 A manhunt is under way for three escapees; Jerry Sargent (left), Christopher Marshall (middle) and Bobby Cockerell. Police say the men stole a truck from a town near the prison and robbed three men in a town about 65 miles east of Louisville, early Monday.
The three escapees now face federal charges of possessing stolen firearms as well as felony possession of firearms, according to the ATF spokesman
Police are looking for a dull-green 1998 Ford Ranger pickup with Kentucky license plate 7824BZ.
If you see these mugs…lock your doors and windows and call police.
……………………..
Speaking of Prison Breaks….Guess who kinda got sprung….
Pit Bull torturer/owner/NFL player Michael Vick has been released into the final stages of serving a 23-month sentence for bankrolling a dogfighting ring. He will spend the next few months in a halfway situation before his full release.
Vick says he wanst back into the NFL
Not so fast says NFL commissioner Roger Goodell. He must show remorse.I sure hope they make him take in Poodles and have to groom them or have to volunteer as an elephant follower in the circus……
Vick was indefinitely suspended from the NFL in August 2007 and it is expected that he will apply for reinstatement after his July 20 release date.
………………………
It may have taken 'one day at a time' but, she did it!
Barbara, aka Valerie Bertinelli is showing us how great a bikini can feel at middle age.
Bertinelli is 48, and she lost 50 pounds. Okay, I'm motivated.
She will appear on the cover of the new People in a string bikini. You go girl! Take that Eddie!
She will also appear on "Oprah" on April 1st.
The Bertinelli quote is, "It's never too late to get your body back!"
Who is in???

Stumble It!

To comment….click on the number that is next to the title of this post or click on the title of the post itself.
thanks
Google+ Comments