I was overwhelmed by the comments and the participation last month when we celebrated Comment Luv Month. I was really thrilled to see the Comment Luv button on so many blogs. As of now, I have had 83 comments on the actual post. WOW!
And, I do admit it. I am the worst when it comes to returning phone calls and comments.
That is why I am declaring March Comment Response Month.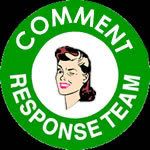 While it would be impossible for me to respond to every comment, I will make an effort to respond with a "thank you" to at least 5 a day.
Care to join me?
Here is the code;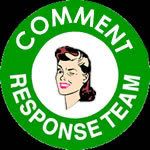 I'm throwing in a little contest in honor of March Madness.

1. Comment on Sited and Blogged.
2. Write a post about Comment Response Month and use the official image posted.
3. Come back here and comment to this post telling every one
a) That you commented on Sited and Blogged
b) The address of your post about Comment Response Month
c) If you would prefer 2,000 EntreCard Credits or a FREE AD on my site
for the entire month of April ($20 Value!).
The winner will be chosen randomly at the end of the month and yes, you can enter more than once.
Anyone can comment to this post and not enter the contest as well.
THANKS!
Stumble It!

To comment….click on the number that is next to the title of this post or click on the title of the post itself.
thanks
Google+ Comments