Well, we got through the second week of March and of March Madness okay.
Newsly items this week;
– Octuplet mom's actual birth father purchased her and her family of 14 a home on what was a quiet California cul de sac. Somehow, we know Dr. Phil was attached as he did another show on the story and has convinced her to accept Angel help from Gloria Alred.
– Good thing Holly, Bridget, and Kendra packed up and moved out cause Hef has put the 'Girl's Next Door' home on the market. He's asking nearly 28 million dollars, the Los Angeles Times reported Friday. Octuplet mom missed out on this one.
The house is actually next door to the infamous mansion but who cares? For 28 mill you could get to next door to the Playboy Mansion. The home also features 7,300 square-feet, five bedrooms, seven bathrooms, a library and sits on 2.3 acres.
– Ever think about drugging your boss?
Police said a woman has been arrested for 'allegedly' slipping some tranquilizers into her boss's coffee because she felt "he needed to chill out."
– And you thought Comic books were out!
A rare copy of the first Superman comic book sold for 317,200 dollars at an auction. The original price? 10 cents paid back in 1938.
– Madoff's Victims are facing all kinds of problems. 
First off, they paid taxes on money they never really made. What do they do now? How do you prove it, file the issue with the IRS and get your money back before the next turn of the century?
Said one of the victims, 
"My father came out of Nazi Germany," she said. "His mother once told me when she came out of Germany, 'What's in your mind and what's in your heart, they can never take away from you.' And that's a lesson that's always been with me. …Nobody can take that from you. And the rest of it is just things."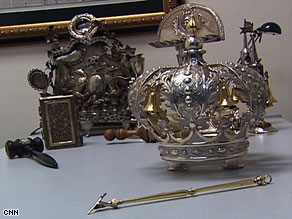 The antiques include a rare U.S.-made silver "Torah Crown" and a "Torah Pointer" possibly from the 1780s.
Stumble It!
To comment….click on the number that is next to the title of this post or click on the title of the post itself.
thanks
Google+ Comments