First dog Bo find his new home.
BO'Bama is the luckiest dog in DC.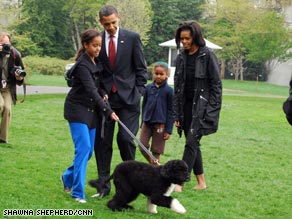 President Obama indeed kept his campaign promise to get his daughters a dog in return for all the time he spent on the road during the long presidential fight.
"He's a star. He's got star quality," the president said of the black curly pup with white front feet and chest and a lion-cut tail.
  

While out with his family and the dog Tuesday afternoon, Obama said Bo had "a bunch of possibilities" of where to sleep, but his own bed wasn't one of those. Bo will be allowed into the Oval Office, he said, and the family will take turns with walks.
 
"The only concern we have is that apparently, Portuguese water dogs like tomatoes. Michelle's garden is in danger," he said.
"We don't have tomatoes," the first lady said. "Not yet," Obama reminded.
"He doesn't know how to swim," chimed in 7-year-old Sasha.
"Apparently they have to be taught how to swim," the president said. "They have webbed feet."  
Colbert Treadmill? No Node Nod.
The Combined Operational Load Bearing External Resistance Treadmill, or COLBERT, is expected to keep astronauts in shape.
With the help of a legion of fans, Colbert got the most votes in the space agency's online poll soliciting names for Node 3, which will be called Tranquility after the Sea of Tranquility, where Apollo 11 landed on the moon. Instead of getting the Node nod, Colbert is getting a treadmill.  Astronaut Sunita "Suni" Williams revealed NASA's decision on "The Colbert Report," which aired on Comedy Central on Tuesday.
"Your name will be in space, in a very important place," 
"I think a treadmill is better than a node … because the node is just a box for the treadmill," Colbert deadpanned. "Nobody says, 'Hey, my mom bought me a Nike box.' They want the shoes that are inside."
 
Google+ Comments