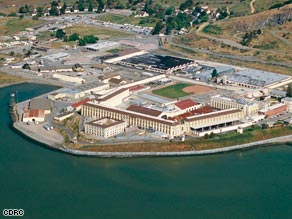 San Quentin sits on a prime 432-acres. It offers breathtaking view of San Francisco Bay. It also houses over 5300 inmates.  Charles Manson and Scott Peterson live there. 
The Senator estimates that the property could sell for as much as $2 billion.
You know…it could house the Octuplet Family….
 San Quentin opened its doors in 1852. I bet there are ghosts there….
……………………

Finally. "The Simpsons"
will be immortalized on stamps to be issued by the U.S. Postal Service this year. The  4
4-cent first-class mail stamps will be 
 designed by Simpsons creator and executive producer Matt Groening. They say it will feature Homer, Marge, Bart, Lisa and Maggie Simpson, the nuclear family at the center of the animated Fox series.
The stamps, a sneak peek of which will be unveiled April 9, also will help celebrate the longest-running primetime comedy's 20th anniversary this year. 
Grand Rapids Press File Photo
My son would have no problem eating this thing. In 20 minutes or less.
No, make that 10.
This is  the 
4,800-calorie, 4 pound burger. It features five slices of cheese, nearly a cup of chili and liberal doses of salsa and corn chips — all on an 8-inch bun.It goes for $20.  
The
West Michigan Whitecaps
say they have no plans to put a warning label on an enormous new hamburger they're selling this season . The Grand Rapids minor-league team   officials have ordered novelty T-shirts to be given to fans who eat the entire burger in one sitting. Opening night is April 9.
 The burger contains nearly 300 grams of fat, 744 milligrams of cholesterol and more than 10,000 milligrams of sodium. Not to mention the chaser you'll need to follow it down. 
Stumble It!

To comment….click on the number that is next to the title of this post or click on the title of the post itself.
thanks
Google+ Comments