There is good news to report coming from the hostage being held by pirates.
The American captain of a cargo ship jumped to freedom today after being held by pirates on a lifeboat off the coast of Somalia. The U.S. Navy SEALs shot and killed three of his four captors, the official said. Capt. Richard Phillips is uninjured and in good condition, the official said.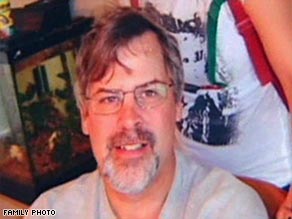 Capt. Richard Phillips was helped out of the water off the Somali coast and is uninjured and in good condition, the official said. He was taken aboard the USS Bainbridge, a nearby naval warship.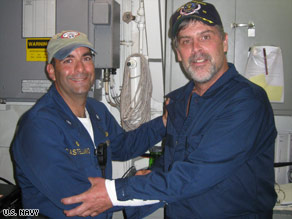 Capt. Richard Phillips, right, stands with U.S. Navy Cmdr. Frank Castellano after Phillips' rescue Sunday.
At the time of the shootings, the fourth pirate was aboard the USS Bainbridge negotiating with officials, the source said. That pirate was taken into custody.Losers.
Seems that daddy, aka the President of the United States, has kept his promise.
The family will be welcoming home thier new 6-month-old Portuguese water dog that the Obama girls are naming Bo.
10-year-old Malia and 7-year-old Sasha, picked a black and white pup . The dog is a gift from Sen. Edward M. Kennedy, who owns several Portuguese water dogs himself.
"We couldn't be happier to see the joy that Bo is bringing to Malia and Sasha," Kennedy said in a statement. "We love our Portuguese water dogs and know that the girls — and their parents — will love theirs, too."
Bo had been living with another family, but it wasn't a good fit, so the Kennedys gave him to the Obamas, The Washington Post reports. He was originally named Charlie, but the Obamas are renaming him.

Madoff's opening-day Mets tickets fetch $7,500
The price nearly doubled on eBay in the last minutes of the auction. Two season tickets, located in the Delta Club Gold section of Citi Field, are valued at $60,750.
The two opening-day Mets tickets were part of a season ticket package formerly owned by convicted Ponzi schemer Bernard Madoff's company.
Google+ Comments