Want some Ponzi-preneur Mets Tickets???
So, now that he's in the slammer, what's he gonna do with his Mets tickets?
The trustee  
liquidating the assets of convicted Ponzi schemer Bernard Madoff's company filed a motion with
New York bankruptcy court   
seeking to sell two New York Mets season tickets owned by the company.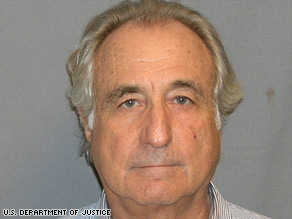 Bernard Madoff pleaded guilty in March to 11 charges related to his $50 billion Ponzi scheme.The trustee says    he hopes to sell the opening-day tickets as well as individual tickets for April games through an online auction or ticket broker to the highest bidder. The remaining tickets in the season package will be sold in an online auction to the highest bidder beginning in the middle of April.
The two season tickets are valued at $60,750 in the motion, and are located in the Delta Club Gold section of Citi Field. The Mets list prices for individual tickets in that section range from $525.00 to $225.00.
Got a storage unit? Better pay that bill!
It's the latest auction trend. You don't pay your bill- they sell everything in your unit!  

Bidders are barred from entering the
garage
or touching its contents prior to bidding.  In January alone, one company auctioned 250 units. 
Neither auctioneers nor bidders are allowed to inspect the items until after the sale, meaning they are often bidding blindly. Up until the auctioneer says "Sold," the items are legally the property of those renting the space. 

Why do we have to hear these stories??

Milwaukee Police have found the mother of a newborn baby abandoned in a car.
The baby girl was found in a diaper bag  and is between two and five days old.

 In Washington state,  a 1-year-old boy was found dead in the back of a car. He had been there for around seven hours while his mom went to work. After work, she went back to the car and found him dead. Are you kidding me?  

Stumble It!

To comment….click on the number that is next to the title of this post or click on the title of the post itself.
thanks
Google+ Comments