In a bizarre search, South Carolina authorities have located a 555-pound teenager and his mother, who faces a charge of violating a custody order. Social services says that  14 year old is possibly at a stage of critical health risk."  555 pounds at 14!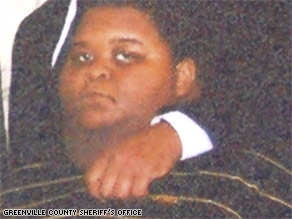 Alexander Deundray Draper, 14, "is possibly at a stage of critical health risk," social services said.
 The mother is being held in a detention center and will be extradited to South Carolina on an outstanding warrant. Mom was supposed to appear in family court
Tuesday
with her son and failed to do so, the sheriff's office said. During the family court hearing,
the boy was ordered into state custody because of medical neglect,
as well as his mother's failure to appear. The Department of Social Services then contacted the sheriff's office, authorities said. 
At Tuesday's hearing, a judge granted an order to put the boy into emergency protective custody with DSS. The 14 year old was turned over to the county Department of Social Services after he was taken by Fire Department medics to Greater Baltimore Medical Center, where he was examined and declared in good health.
 The boy told police he was in the eighth grade and had had weight problems his entire life.
 …………..
UPDATE:
Google+ Comments