In Minnesota, 13-year-old cancer patient and his mother  fled last week  rather than undergo chemotherapy.  Mom citied that she preferreed to treat the boy via a Native American holisitic approach. He returned voluntarily yesterday to udergo a course of treatment after a a court order had been issued by a judge to treat the boy with chemotherapy as this menhod has a newarly 90% success rate.
Hodgkin's lymphoma has a 90 percent cure rate in children if treated with chemotherapy and radiation and doctors say he had a 5 percent chance of survival without those treatments.
The boy underwent one round of chemotherapy in February, but none since. The boy's cancer responded to an initial round of chemotherapy. But the treatment's side effects concerned the boy's parents, who opted not to pursue further chemotherapy and solicited other medical opinions.
 Mom says that she  is now prepared to allow her son Daniel to undergo chemotherapy.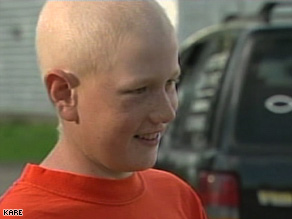 Doctors say Daniel Hauser's lymphoma responded well to a first round of chemotherapy in February.

 
Last wek a judge ruled that the parents medically neglected the boy and ordered them to get him an updated chest X-ray as well as select an oncologist for a re-evaluation. After the X-ray showed a tumor in Daniel's chest has grown, the mother and son left town. 
The story raises questions about individuals' rights in deciding medical care for their children when their decisions go against the advice of medical professionals.
Was mom right for skipping town?
Google+ Comments