Just a bit of housecleaning to tell you about before I get one with the usual Saturday festivities.
First off,
YES! I am still on my diet. I do not know how much I have lost because I threw my scale away years ago. I hate scales. They are evil. But, I've stuck to my low carb diet 100% all month with no cheating! My inspiration? Easy. One humid day I wore shorts and the brutal reminder of summer thighs came calling.
The Comment Challenge was a success. Thank you to everyone who participated. It's all fun. Tomorrow I will post the June Comment Challenge. Be sure to come back to get signed up.
So, lately, thanks to the comment challenge in part, I have recieved some great comments. Here are a few of them
From the Comment Challenge Post

"a" said
Can you come watch my children, so I can comment? Seriously, they are out of control!
"b" said
WHOOPIDTY FLIPPIN' HOO! [doin' the happy mommy dance]
I'm at 1,000!!!!!!!!!!!!!!!!! Ok, so 1,001 with this comment.
That was so much fun! I'm keeping the button up, and going for another 1,000!
Thank you, Harriett!
"c" said this
I say BRING IT ON for June. We can do it. Another 1000 comments. I still have about 125 to go. MUST. BECOME. COMMENT. NINJA!
About Ashton threatening to quit Twitter-

"JJ" said…
Dear Ashton,
Nobody cares.
Love, Harriet and JJ
And concerning an email to my comment challenge mates-
BTW, you have two typos in your June Comment Challenge thingy. (delete this comment if you want to; it's okay)
Yep, it's true. I suck and spelling and my spell check doesn't always work.
…………….

Saturday 9: Uninvited
1. Do you mind people to show up uninvited?
Kinda…..
2. Last person you talked to on the phone?
Husband
3. Last person on your missed call list?
Dentist's Office
4. Who calls you the most?
"toll free" I do not pick up.
5. What is your favorite song about breaking up?
Pretty much anything from Sheryl Crow does it
6. If someone sent you an unexpected gift, what would you like it to be?
A big fat wad of cash- all with Ben Franklin's Face on them 🙂
7. Your classic rock station plays the top songs of all time. What is number one?
What Is and What Should Never Be
8. Do you live for today or tomorrow?
Today
9. What movie villain scared you as a kid?
Probably any of the bad guys from the original Batman series
……………………….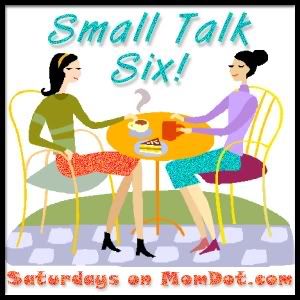 6 things that make you sick, but you eat them anyways
1. Too many malitol laden sweets.
2. Cheese in large quantities
3. I use to enjoy my packed pizza
4. I use to enjoy popcorn with the works
5. Can't think of anything else….
…………….

Did she change her blog button?
Google+ Comments