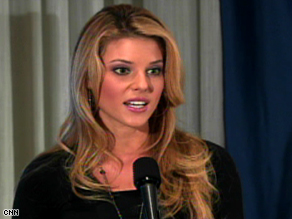 Miss California USA Carrie Prejean will get to keep her crown, thanks to pagent owner Donald Trump. 
In a news conference Trump called her 'intellegent'. In the same conference she called herself an 'inspiration' and lashed out at those in the media with the 'personal attacks'. She then went on to equate herself with American war heros.
While California pageant officials appointed Carrie Prejean's runner-up to temporarily take over her public duties, Trump, who owns the Miss Universe pageant, had the final decision on whether Prejean will lose her crown for breaching her pageant contract.
The state organization's officials   sent their recommendation to Trump for his consideration, Miss California USA .
 
The controversy began when Prejean,  declared her opposition to same-sex marriage in a response to a question during the national pageant stage last month. She finished as runner-up to Miss USA.  She quickly drew criticism for her comments, and calls for her dethronement took on renewed energy last week when photos of Prejean wearing only lingerie bottoms were published online. A pageant spokesman said the photos violated the contract she signed to be in the pageant. 
She also violated her duties by recording a phone message being used by the group to solicit donations for its campaign against same-sex marriage. 
Prejean has traveled the United States to speak out against same-sex marriage instead of fulfilling her pageant duties, Lewis said.  She maintains her innocence in photos that were taken calling them 'photoshopped'.
Probably the biggest question is, is Miss USA relevent in 2009 or is Trump just in it for a few more bucks?
Google+ Comments