In Florida a man has been charged with first-degree murder. Authorities say he threw a 3-month-old boy out of a moving car on a Tampa interstate. A passing motorist found the baby's body on the interstate.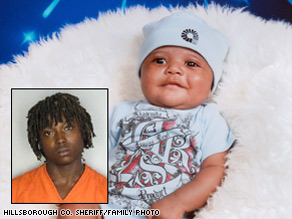 Authorities say that he took the child from his girlfriend's home. Five weeks before his arrest in the slaying of his ex-girlfriend's baby,  he had threatened to kill the child, authorities said today.   
Deputies said, he went the girlfriend's where he beat the 17-year-old and threw 3-month-old baby on a concrete floor. He then took the baby and drove away in his Chevrolet Impala.
When he got onto southbound Interstate 275, deputies said, he threwthe baby onto the highway shoulder. 
Police said the man has had dozens of arrests, several of which accuse him of domestic violence. The baby's mom had sought an injunction against himfor domestic violence a
month ago.
She didn't appear in court   and the case was dropped.  
He is facing additional charges of burglary with battery, felony battery, aggravated child abuse and kidnapping, the sheriff's department said
Google+ Comments