Join the Un-Mom for Randomness this Tuesday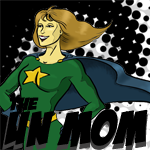 Balloons!
The Eastman Kodak Co. announced it's retiring its most senior film because of declining customer demand in an increasingly digital age. The world's first commercially successful color film, spent 74 years in Kodak's portfolio. Sales of Kodachrome are now just a fraction of 1 percent of the company's total sales of still-picture films, and only one commercial lab in the world still processes it.

Peas manager charged in Perez Hilton fight
TORONTO (Hollywood Reporter) – Toronto police have charged the manager of chart-topping hip-hop band the Black Eyed Peas with assault after a confrontation with celebrity blogger Perez Hilton at Sunday's MuchMusic Video Awards. No word yest on whether or not the former Miss California had anything to do with it.
Obama, citing his smoking woes, signs tobacco law
WASHINGTON – Lamenting his first teenage cigarette, President Barack Obama ruefully admitted on Monday that he's spent his adult life fighting the habit. Then he signed the nation's toughest anti-smoking law, aiming to keep thousands of other teens from getting hooked.
Obesity Greatly Raises Endometrial Cancer Risk
HealthDay – (HealthDay News) — Obesity is already linked to heart disease, diabetes and high blood pressure, but new research finds those extra pounds can also significantly increase a woman's risk of developing endometrial cancer, especially if she experiences early menopause.
U.S. porn industry HIV cases prompt investigation
LOS ANGELES (Reuters) – California health officials are investigating the Los Angeles clinic where a pornographic film actress recently tested positive for HIV, saying it has failed to alert local authorities to cases of sexually transmitted disease in the adult film industry.
Chris Brown has pleaded guilty to one count of felony assault on pop star Rihanna.
Brown entered his plea before a preliminary hearing was scheduled to start in Los Angeles on Monday. Rihanna had been on standby to testify.
Brown will be sentenced on Aug. 5, but the terms of the plea deal call for him to serve five years of formal probation and six months — roughly 1,400 hours — of community labor. Brown will be able to complete his probation in his home state of Virginia; he will have to do either graffiti removal or roadside cleanup for his service.
Google+ Comments