Saturday 9: Games People Play
1. What was your favorite active game as a child?
Hopscotch?
2. What was your favorite board game as a child?
Candyland
3. Tell us about a friend you played these games with in your youth.
Don't remember anyone specific. My dog was always there though 🙂
4. What is your favorite card game?
Gin Rummy
5. What board games do you enjoy now?
Have not played in years.
6. Do you play video games?
nope
Which ones?
7. Tell us about the friends you play games with now.
don't play games
8. Do you play any sports now?
I'm kinda old for playing sports. I do enjoy a run/walk.
9. What's your favorite sport to watch
Football and baseball.
…………….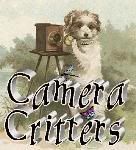 It started to rain outside and this fella started knocking on my door to come in. Even my dog was freaked out 🙂
Google+ Comments