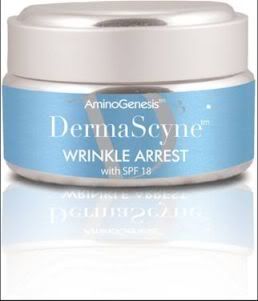 You should read more about this……
Another exciting Giveaway !!! This time I'll be giving away AminoGenesis Wrinkle Arrest, a moisturizing day cream worth $59, and a beverage booster HealthDropz to one lucky reader.
About Aminogenesis Wrinkle Arrest:
Wrinkle Arrest is a new moisturizing day cream with SPF 18 and broad spectrum sun protection. Wrinkle Arrest contains the groundbreaking AminoGenesis DermaScyne formula which helps reduce the appearance of fine lines, wrinkles, discoloration and other signs of aging. These precursors help support proteins like collagen and elastin as well as many other key proteins found in the skin. Price: $59. BTW, it has also won American Academy of Dermatology (AAD) Seal of Recognition.
AminoGenesis Wrinkle Arrest Moisturizing Day Cream
About Beverage Booster- healthDropz:
healthDropz is available in three blends (Energy, Focus and Green Tea Antioxidants), each providing a precise, highly concentrated mix of vitamins, herbs or select natural ingredients. Simply add six healthDropz to 8 oz water of water or any beverage. No mixing necessary. A 90 serving bottle of healthDropz (0.9 fl oz) retails for $8.99. The bottle is small and convenient to carry, about the size of a lipstick.
Beverage Booster:HealthDropz
healthDropz Energy: The Kick Without the Can
Unlike other specialty beverages, healthDropz Energy is not a caffeine laden formula. Instead, the secret in these drops is small amounts of caffeine, the amino acid taurine and lots of B vitamins, especially B12.Because healthDropz Energy is sugar-free, there is no potential for a sugar crash.
healthDropz Focus: A Difference in Minutes
healthDropz Focus is a fast-acting blend combining vitamin B6 with four scientifically tested, brain support nutrients, rhodiola rosea, DMAE, huperzine A (an extract from Chinese club moss) and citcoline. In as little as 10 minutes healthDropz Focus users have noted benefits.
healthDropz Green Tea: A Drop Full of Antioxidants
Avid tea drinkers are constantly brewing pot after pot of green tea for the desired six cups a day. healthDropz Green Tea, however, is an easy solution; providing a full cup of green tea polyphenols in just six drops. Importantly, about half of these polphenols are ECGC. Cut six cups into three, by adding six healthDropz to each cup of green tea. Or add green tea benefits to any drink, without adding flavor. healthDropz Green Tea has none of the added sugar or sweeteners of bottled green tea nor the strong bitter after-taste of green tea extracts.Unlike the Omega-3 brain supplements which have a fishy after-taste, healthDropz Focus adds no flavor to a glass of water.
Want to win these amazing goodies? Then go through the rules of this contest carefully. There are 3 different ways through which you can enter this contest:
Click here for more information

http://myblogonbeauty.blogspot.com
Google+ Comments