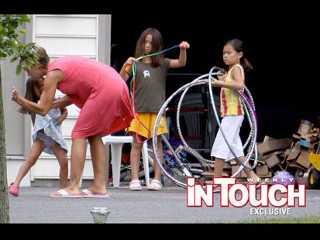 This appeared in the latest issue of In Touch Weekly.
It seems that the embattled mother of TLC's Jon & Kate Plus 8, lost her temper with Leah, one of the sextuplets, after the five year old wouldn't stop blowing a whistle while mom was on the phone.
The magazine quoted a witness saying Gosselin grabbed Leah and hit her, after telling Leah twice to stop. "The girl was screaming and crying," the witness said. "Kate just pushed her away and walked off with her coffee. "
In response, Kate
Gosselin
is defending her actions.
"Whether the paparazzi are there or not, I am a mother first," Gosselin told Life & Style Weekly. "I love my children and when they misbehave, I discipline them as I deem appropriate for the situation."
What do you think?
Is Kate losing it?
Has she turned a corner?
Google+ Comments