After being defended by the boss Donald Trump about a month ago, Carrie Prejean has been dethroned as Miss California USA. The reasoning? For "contract violations," including missing scheduled pageant events – according to a state pageant official.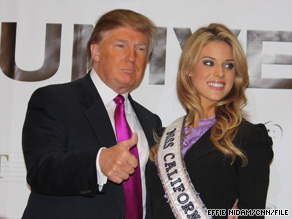 Donald Trump poses with Carrie Prejean in May. Prejean was removed as Miss California USA on Wednesday.
Last month she retained her title despite a controversy over topless photos, missed appearances and her statements against same-sex marriage. She explained that the topless photos were cause by the 'wind' blowing open her top during a photo shoot. Yep. Happens all the time.
"Carrie is a beautiful young woman, and I wish her well as she pursues her other interests," Trump said.
Miss Malibu, will immediately assume the Miss California USA title.
So how did Prejean lost her crown this time around?
"This was a decision based solely on contract violations, including Ms. Prejean's unwillingness to make appearances on behalf of the Miss California USA organization," according to one official.
"She came to us and said I'm not interested in your input; I'll make my own decision what I'm going to do."
Last month, during her last controversy over the crown, Trump said that he told her"I told Carrie she needed to get back to work and honor her contract with the Miss California USA organization, and I gave her the opportunity to do so," "Unfortunately, it just doesn't look like it is going to happen.
During a radio interview Wednesday with Billy Bush, who also was host of the pageant, Prejean said it was that controversy that led to her losing her title, not contract issues.
"It's just because of my answer, I think," Prejean told Bush. "None of this would be happening right now if I just said yeah, gays should get married, you're right Perez Hilton."
Google+ Comments