Expecting moms can determine the sex of their baby?
When I was
pregnant with my first child,
at home pregnancy tests were just hitting the drugs stores as a big thing. Now, you can buy them at the local dollar store (ask some of the local high school girls).
Today, thanks to a Texas company, expecting moms can determine whether they're carrying a boy or a girl. And, they can do it as early as 10 weeks after conception using an over-the-counter gender prediction test .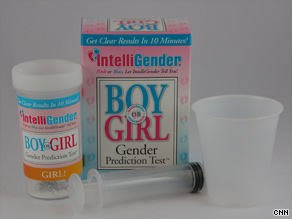 IntelliGender makes a gender prediction test. If a urine specimen turns orange, it's a girl. Green is for boys.
If a urine specimen turns orange, it's a girl. Green is for boys.
According to the manufacturer, IntelliGender,the IntelliGender Gender Prediction Test is THE ONLY affordable, simple-to-use urine test that provides immediate gender results in the privacy and comfort of the home. Within ten minutes, the IntelliGender Gender Prediction Test test indicates whether the baby will be a boy or a girl. Used as early as six weeks after the first missed period, the Gender Prediction Test bridges the curiosity gap between conception and sonogrthe creator of the "Boy or Girl Gender Prediction Test," say scientists isolated certain hormones that when combined with a "proprietary mix of chemicals" react differently if a women is carrying a boy or a girl.
The gender predictor test boasts a 78 to 80 percent accuracy rate, according to the latest IntelliGender report.
So, what kind of problems can this cause?
The makers of the gender prediction test say it "categorically disagree" with the idea their test may prompt an increase in sex-selection abortions.
IntelliGender says out of "hundreds of thousands" of e-mail inquiries, only two have inquired about using the test as a vehicle for sex-selection.
Pro-life groups, already concerned about women opting to keep babies based on hair and eye color, are now worried about gender-selection, too. While the test is available for sale in 11 countries, IntelliGender does not sell the test to India or China.
So, what's good about knowing the sex?

I am one of those people who likes to prepare. There are many parents who like to prepare for the birth of a child by painting the bedroom pink or blue(which they'll probably regret when the go to sell the house) or buying clothing (there are only so many yellow onsies you can own).

Since 2006, more than 50,000 tests have sold online in the United States. Last month, U.S. drugstore chains CVS and Walgreens, began selling the gender predictor test for $34.95.
Would you buy this?
Google+ Comments