Going to Disney on vacation? Here is something that doesn't happen all the time. In Florida this morning, a monorail train at Walt Disney World crashed into the back of another train killing a driver. The collision occured at about 2 a.m. at a monorail stop.
"Today we mourn the loss of our fellow cast member," said a statement by Mike Griffin, Disney's vice president for public affairs. "Our hearts go out to his family and to those who have lost a friend and co-worker." The statement said the monorail was shut down, "and we will continue to work closely will law enforcement to determine what happened and the appropriate next steps."
Apparently, one train had been stopped and the other one rammed into it on the Epcot track of the Transportation and Ticket Center. Magic Kingdom guests were leaving the park following a Fourth of July fireworks show.
Disney's theme parks reopened as scheduled this morning. Park officials say the entire monorail system will remain out of service until further notice as investigation and cleanup continues.
The Walt Disney World Monorail system debuted when the resort first opened in 1971.
The entire monorail system comprises 14.7 miles of track, transporting about 50 million guests every year between the Magic Kingdom, Epcot and various Disney resorts.
The maximum speed during normal operations is 40 mph.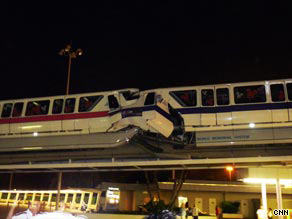 A 2 a.m. ET monorail crash at Disney World killed one person, a park spokesperson said.
Google+ Comments