Join the UnMom for Randomness…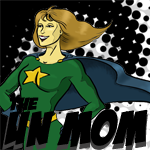 "The Naked Cowboy", an icon
in New York's Times Square, says that he plans to run for mayor on a platform of "bringing transparency to a whole new level." AKA Robert Burck, he has made a profitable business from strumming a guitar dressed only in cowboy boots, hat and tight-fitting white briefs, asking tourists to pay a fee to take a picture with him. Guess I missed that one.

Oldest man alive is in the US. 112-year-old Walter Breuning learned to read by kerosene lantern and cast his first presidential ballot for Woodrow Wilson. The resident of Great Falls, Mont., became the world's oldest man when the 113-year-old oldest man died Saturday. Breuning was born Sept. 21, 1896. Breuning takes one aspirin and eats two meals a day. He strolls the halls wearing a suit and tie and still walks the ramps to his second-floor apartment.
HealthDay Birth rates among U.S. teens increased in 2006 and 2007, following large declines from 1991 to 2005, according to a new U.S. government study
Moms who suffered physical abuse or other violent experiences in childhood are much more likely to spank their infants than moms who did not suffer these adverse childhood experiences, results of a new study indicate. Full Story »

Is Paula Abdul Leaving Idol?

Kraft S'mores Sandwich Cookies….
Ingredients:
1/2 cup (1 stick) butter or margarine, softened
3/4 cup sugar
1 egg
1 teaspoon vanilla extract
1-1/3 cups all-purpose flour
3/4 cup HONEY MAID graham crackers, coarsely chopped
1 teaspoon baking powder
1/4 teaspoon salt
5 HERSHEY'S Milk Chocolate Bars (1.55 oz. each)
3 cups JET-PUFFED miniature marshmallows
Instructions:
1. Heat oven to 350°F. Grease 8-inch square baking pan.
2. Beat butter and sugar until well blended in large bowl. Add egg and vanilla; beat well. Stir together flour, graham cracker crumbs, baking powder and salt; add to butter mixture, beating until blended. Press half of dough into prepared pan. Bake 15 minutes.
3. Arrange unwrapped chocolate bars over baked layer, breaking as needed to fit. Sprinkle with marshmallows; scatter bits of remaining dough over marshmallows, forming top layer. Bake 10 to 15 minutes or just until lightly browned. Cool completely in pan on wire rack. Cut into 16 bars.
Google+ Comments