Gotta Love STUPID Criminals…
A less than brilliant robber wanna be got foinled by clerk's quick flip of a switch. Seems the robber attempted to rob an Office Depot store in downtown Chicago. The man entered the store carrying a gun concealed in a folded newspaper. He approached one of the store's cash registers and demanded the contents of the safe, police said. The clerk refused and instead turned on the public address system so that other customers could hear what was going on.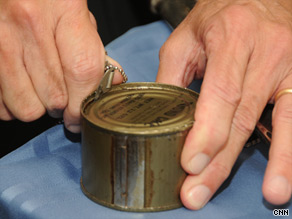 Retiring Army Col. Henry Moak uses a vintage P-38 to break the seal on government cake saved since 1973.

She's back….
Nadya Suleman, the Octuplet Mom, has signed deals for all 14 of her kids to appear in a reality TV show. They'll each get $250 a day for their work on the show which amounts to about $250,000 over three years. Filming starts in September, just after Jone and Kate are scheduled to return. Oh boy!!!

Did you hear?
OJ wants his crap back! The same crap that landed him in the clink!
Google+ Comments