Police had estimate that more than 250,000 people would jam the sidewalks outside the Staples arena to pay their final respects to Michael Jackson. Because of this estimate, more than 3,000 police officers were present. Helicopters followed the golden casket as it was driven over blocked-off freeways from Forest Lawn cemetery to Staples Center. The cost, as of yesterday, was$2.5 million, and rising according E!online.
The highlight of the event,
Michael Jackson's daughter Paris Katherine
addressed mourners in the
Staples Center
telling them her father was "the best father you could ever imagine."
"Ever since I was born, Daddy has been the best father you could ever imagine," she said, dissolving into tears and turning to lean on her aunt Janet. "And I just wanted to say I love him — so much."
Jackson's remains were in a closed, rose-draped, bronze casket. His brothers, who served as pallbearers, wore single white sequined gloves, a tribute to their brother's signature look of the 1980s.
"Michael, when you left us, a part of me went with you," brother Marlon Jackson said. "And a part of you will live forever within me, but also a part of you will live forever within all of us."
Marlon Jackson said the world could not understand what his brother endured "being judged and ridiculed.""How much pain can one man take," Marlon Jackson asked. "Maybe now, Michael, they will leave you alone."
Before the final words Jackson's band members, family, children and celebrities filled the stage to sing Jackson's "Heal the World." The song followed a performance of "We are the World," the 1985 hit written by Jackson and Lionel Richie to raise money for African famine relief.
Several of Jackson's older brothers carried his casket. The casket was bronze with 14-karat gold-plate handles, according to the manufacturer.
Mariah Carey was joined by Trey Lorenz singing The Jackson 5's 1970 hit "I'll Be there" as a montage of Jackson photographs appeared on arena screens.
Queen Latifah, saying she was on stage to represent "millions of fans inspired by Michael," said "Michael was the biggest star on earth." Lionel Richie then performed the song "Jesus is Love."
Stevie Wonder also took the stage next.
"This is a moment that I wished that I didn't live to see come, but as much as I can say that and mean it, I do know that God is good," Wonder said. "And I do know that as much as we may feel, and do, that we need Michael with us, God must have needed him more."
Wonder then delivered an emotional version of his 1971 song "Never Dreamed You'd Leave in Summer."
Lakers legend Magic Johnson, said Michael Jackson set a world record for the "most charities supported by a pop star."Johnson said he met Jackson when the singer was a Lakers' season ticket holder. "I truly believe that Michael made me a better point guard and basketball player as I watched him be so great and be the greatest entertainer ever," Johnson said.
Singer Jennifer Hudson sang Jackson's song "Will You Be There."
John Mayer played lead guitar on the song "Human Nature," from Jackson's "Thriller" album.
An emotional Brooke Shields, said they bonded "because we both understood what it was like to be in the spotlight from a very, very young age."
Usher sang "Gone Too Soon," as he walked toward Jackson's casket.
Smokey Robinson joked about his reaction when 10-year-old Michael recorded a song Robinson had written. "I quickly went over to him, because I wanted to see his birth certificate," Robinson said. "I didn't believe that someone that young could have a lot of know. You have to have a lot of know to sing that song."
Earlier in the memorial Robinson read personal messages from several of Jackson's celebrity friends who did not attend. "Michael was a personal love of mine, a treasured part of my life, part of the fabric of my life, in a way that I can't seem to find words to express" Diana Ross said in a message read by Robinson.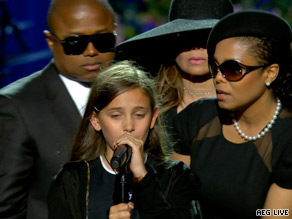 Paris Katherine Jackson, 11, said goodbye to her father at the close of the memorial service.
Google+ Comments