In case you have not heard, former President Bill Clinton left North Korea bringing with him two freed U.S. journalists. Leader Kim Jong Il pardoned the women sentenced to hard labor for entering the country illegally.
Euna Lee and Laura Ling were arrested in March while reporting from the border between North Korea and China. In June, they were sentenced to 12 years of hard labor on charges of entering the country illegally to conduct a smear campaign.
"We feared at any moment that we could be sent to a hard labor camp, and then suddenly we were told we were going to a meeting," a tearful and emotional Ling said at a news conference Wednesday morning in California shortly after arriving by plane with Lee and Clinton.

"We were taken to a location, and when we walked through the doors, we saw standing before us President Bill Clinton," Ling said, with Lee standing beside her.

"We were shocked, but we knew instantly in our hearts that the nightmare of our lives was finally coming to an end."

She expressed her and Lee's "deepest gratitude" to Clinton and his "wonderful, amazing" team. Watch as Ling says, "We could feel your love" "The past 140 days have been the most difficult, heart-wrenching time of our lives," Ling said. "We are very grateful that we were granted amnesty by the government of North Korea, and we are so happy to be home."We always maintained our hope and knew in our hearts that we would see Laura again; we just didn't know when," Journalist and sister of one of the woman Lisa Ling said outside her home in Los Angeles, California. "We are just thrilled beyond words that the day has finally arrived."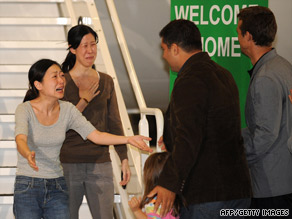 The families of Euna Lee, left, and Laura Ling greet them Wednesday in California.
"I am very happy that after this long ordeal, Laura Ling and Euna Lee are now home and reunited with their loved ones," Clinton said in a statement.
"When their families, Vice President Gore and the White House asked that I undertake this humanitarian mission, I agreed. I share a deep sense of relief with Laura and Euna and their families that they are safely home."
Google+ Comments