Did you find a job after graduating from college?
A New York City
woman is ticked off she can't find a job.
So, she is suing the college where she earned a bachelor's degree. She filed a lawsuit in
Bronx Supreme Court
seeking the $70,000+ she spent on tuition.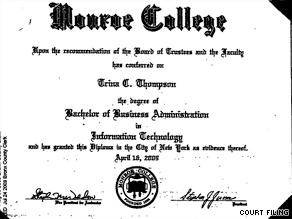 Trina Thompson has sued her alma mater, Monroe College of New York.
She says she's been unable to find employment since she received her information technology degree in April. According to her, the Bronx school's Office of Career Advancement hasn't provided her with the leads and career advice it promises.
"Office of Career Advancement did not help me with a full-time job placement. I am also suing them because of the stress I have been going through."
"They're supposed to say, 'I got this student, her attendance is good, her GPA is all right — can you interview this person?' They're not doing that," she said.
She suggested that Monroe's Office of Career Advancement shows preferential treatment to students with excellent grades. "They favor more toward students that got a 4.0. They help them more out with the job placement," she said. She had a 2.7 gpa.
Asked whether she would advise other college graduates facing job woes to sue their alma maters,the woman said;
"It doesn't make any sense: They went to school for four years, and then they come out working at McDonald's and Payless. That's not what they planned.
Google+ Comments