You've probably seen her site before or read one of her wonderful comments here.
This is Maria.
I am a mom first, wife second, daughter third, sister of 5 siblings next and career woman last. This blog is about my daily struggles, challenges, wins and successes in life. I try to balance my work and home life while trying to fit in some time to be a wife. I am sharing this information online in a hopes to help readers avoid some of the mistakes I've made as well as share some of the successes. This blog is a means to try to entertain, educate (tips and reviews) and network.
The name I use in my blog as well as this book is Maria Melo which is not my full legal name. As well, all names referenced in this (children's name, husband ect…) are fictitious. I chose to create different names in an attempt to protect the privacy of my family. Since I will be writing about my family, work and friends I don't believe that it would be fair to divulge information about their lives without their consent. I am the one choosing to create this blog and therefore feel it wouldn't be fair to just force my family and friends to have information written on them online.
Aside from my favourite career (being a mom), I am also a retail manager for a large department store. I've been in management since I was 20 years old (14 years ago). I am an avid reader and love research. Every book I've read (except novels of course), is filled with highlighted important points. I also tend to enter these points in my own version of a summary of the book. I have binders filled with summaries of books. My husband always jokes that he doesn't have to read the books I've read, just my summaries. I also have books on tape that helped me through a lot of traffic in the morning and after work. I tell you this to give you an understanding of my passion for knowledge and learning. Hopefully some of what I've learned can be to your advantage.
Parenting is not an easy task and we should welcome all resources available to help us. That's why I set up Conversations with Moms, in an attempt to join mothers together in an attempt to brainstorm ideas of what works and what doesn't.
I welcome you to share any feedback or experiences you may have. Please share any comments on a post you can relate to. Or you may e-mail me at
info@conversationswithmoms.com
Maria hosts a Friday meme called Friday Frustrations.
Please join her for it.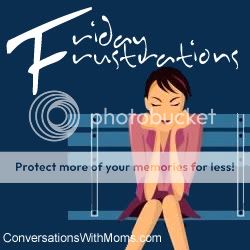 Google+ Comments