Kiss is putting out new music through the world's largest retailer. "Sonic Boom" is due to be released only at Wal-Mart and Sam's Club on Oct. 6. It will include a CD of the band's first new music in 11 years, re-recorded versions of famous Kiss hits and a live DVD.
California authorities say a man caused a traffic jam when he threw money onto a Los Angeles-area freeway and people dashed into the lanes to grab the cash
A customer shopping at a discount supermarket store in Germany found stems of a poisonous weed in mixed salad bags, triggering concerns about potential health risks, the store said
Forty percent of the messages on Twitter are "pointless babble" along the lines of "I am eating a sandwich now," according to a study conducted by a US market research firm.

In New York, when a man is about two feet away from his Magic Chef stove, incoming calls on his PDA make the appliance beep. Then the digital display lights up, indicating the stove's broiler is on high. Sure enough, when he pops open the door, the burners are aflame. Cool huh?
Join the unmom for more randomness.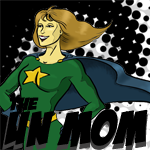 Google+ Comments