The youngest brother of the promising and American Royal family, Sen. Edward M. Kennedy (Ted) died at his home on Cape Cod after a year-long struggle with brain cancer. He was 77.

Ted Kennedy was the only one of the four Kennedy brothers to die of natural causes.
Kennedy's eldest brother, Joseph,
was killed in a plane crash in World War II. President John F. Kennedy was assassinated in Dallas in 1963. Sen. Robert F. Kennedy was gunned down in Los Angeles as he campaigned for the 1968 Democratic presidential nomination. Years later, in 1999, John F. Kennedy Jr. was killed in a plane crash at age 38 along with his wife.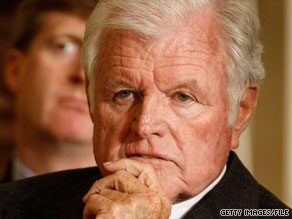 Massachusetts Sen. Ted Kennedy, known as the "Lion of the Senate," died Tuesday at 77.
Ted Kennedy was one of only six senators in U.S. history to serve more than 40 years.
He launched his political career in 1962, when he was elected to finish the unexpired Senate term of his brother, who became president in 1960. He won his first full term in 1964.
Kennedy suffered a seizure in May 2008 at his home on Cape Cod. Shortly after, doctors diagnosed a brain tumor. The tumor was a malignant glioma in his left parietal lobe.

Surgeons at Duke University Medical Center removed as much of the tumor as possible the following month. Doctors considered the procedure a success, and Kennedy underwent follow-up radiation treatments and chemotherapy.
In a statement, Pres. Obama says: "An important chapter in our history has come to an end. Our country has lost a great leader, who picked up the torch of his fallen brothers and became the greatest United States Senator of our time."

The Kennedy family has been plagued with all kinds of tragedies . Kathleen, was killed in a plane crash in 1948. Rosemary, was born mildly retarded, but was institutionalized after a botched lobotomy in 1941. She died in 1986 after more than 50 years in mental hospitals.

Eldest brother, Joe Jr., died in a plane crash during World War II when Kennedy was 12. John was assassinated in Dallas, Texas, in 1963, and Robert was killed the night of the California primary in 1968.

Ted Kennedy was born in 1932. He was the youngest of Joseph and Rose Kennedy's nine children Ted was thrown out of Harvard in 1951 for cheating, after arranging for a classmate to take a freshman Spanish exam for him. He eventually returned, earning his degree in 1956.
He went on to the University of Virginia Law School, and in 1962, while his brother John was president, announced plans to run for the Senate seat JFK had vacated in 1960.

He is survived by his second wife, Victoria Ann Reggie Kennedy, whom he married in 1992; his first wife, Joan Bennett; and five children — Patrick, Kara and Edward Jr. from his first marriage, and Curran and Caroline Raclin from his second.
Google+ Comments