Michael Vick has officially been signed by the Philadelphia Eagles.
"I know I've done some terrible things, made a horrible mistake. Now I want to be part of the solution and not the problem,"
"For the life of me, I can't understand why I was involved in such pointless activity," Vick said. "Why did I risk so much at the pinnacle of my career?"
"There was a point in my life where I felt it was wrong and I knew it was wrong," he said. "To this day I have to live with that shame and that embarrassment."
"Everything that happened at that point in my life was wrong," Vick said of his involvement with the dogfighting ring.
Vick, who said he wants to be the "best ambassador to the NFL and community," said he hoped to play in a regular season game soon. He asked for a second chance, but expected he won't be easily forgiven by fans or the general public."I understand to a certain degree, but our country is a country of second chances," he said. "I paid my debt to society. I spent two years in prison. … That was a humbling experience. I can't explain how deeply hurt and how sorry I was."
So how much is remorse worth to Vick?
The Eagles edal is for one-year $1.6 million with a team option for a second year for $5.2 million. None of the money is guaranteed, so the Eagles face no financial risk if Vick does not make the team. I think that means if there is a massive boycott by animal lovers, he's outta there.
The Philadelphia Daily News blasted the decision in headlines for
Friday
's edition, with a front-page headline blaring "Hide Your Dogs" and "What Are They Thinking?" on the back.
On their website was this;

Blinq: The news that the Eagles signed Michael Vick has split me from a couple of my friends, real and virtual. They think it's a perfect fit.
Wayne Pacelle, president and CEO of The Humane Society of the United States, released the following statement on Michael Vick's signing with the Philadelphia Eagles:
"Michael Vick admits that what he did to dogs was cruel and barbaric, but now that he has served his time, he wants to be part of the solution rather than part of the problem. He has pledged to make a long-term commitment to participate in our community-based outreach programs to steer inner-city youth away from dogfighting. At events with Michael in Atlanta and Chicago, we've seen him deliver a powerful message against animal cruelty. Like so many other major American cities, Philadelphia has a serious dogfighting problem, and groups like the Pennsylvania SPCA have excellent programs to combat dogfighting locally. We have not had any discussions with the Philadelphia Eagles and the team did not consult animal welfare groups about its decision, but we look forward to working together to combat the dogfighting problem in Philadelphia and nationwide. "
-30-
Follow The HSUS on Twitter.
The Humane Society of the United States is the nation's largest animal protection organization — backed by 11 million Americans, or one of every 28. For more than a half-century, The HSUS has been fighting for the protection of all animals through advocacy, education and hands-on programs. Celebrating animals and confronting cruelty — On the web athumanesociety.org.
Ed Sayres, president of the American Society for the Prevention of Cruelty to Animals, said in a statement that the group
"expects Mr. Vick to express remorse for his actions, as well as display more compassion and sound judgment this time around than he did during his previous tenure with the NFL. We hope that Mr. Vick uses his stature for the betterment of the community and the advancement of the issue of animal cruelty."
Vick knows he might never be forgiven by some people.
Eagles owner Jeffrey Lurie said he did serious "soul searching" regarding Vick. The owner said he met with Vick for hours and is convinced he can become a force in stopping animal cruelty.
"I needed to see a lot of self hatred in order to approve this," Lurie said.
The Falcons released a statement that said Vick is going "to a first-class organization" and will receive great support from Lurie, Reid, McNabb and team president Joe Banner.
Vick, who said he has no more pets, said he planned to actively work in the community and the humane society to prove he can help more animals than he's hurt.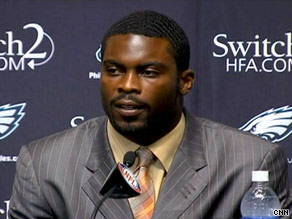 Michael Vick speaks at a Philadelphia Eagles news conference on Friday.
I sure hope this isn't another OJ searching for the real killers story…
The NFL reinstated Vick on a conditional basis. Vick "will be considered for full reinstatement and to play in regular-season games by Week 6 based on the progress he makes in his transition plan," the league said in a statement last month.Week 6 of the NFL season is in October.
Vick has also filed for Chapter 11 bankruptcy. At a hearing in that case, he told the judge he earned 12 cents an hour as an overnight janitor while in prison.
Google+ Comments