The National Weather Service issued a flash flood warning for counties along the Interstate 20 corridor east of the Atlanta area almost to the South Carolina line. Additionally, several counties south of Macon, in central Georgia, were under a flash flood warning.
Much of the rest of central and northern Georgia remained under either flash flood or flood watches. Days of heavy rains prompted Georgia's governor to declare a state of emergency Monday in the 17 counties hardest hit by flooding. How's your weather?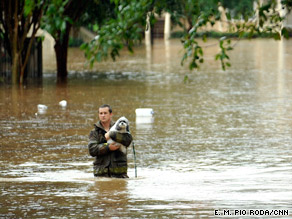 Atlanta firefighter Stephen Webb carries a dog to safety Monday at the Peachtree Park Apartments.
Yoga Thrive, a community-based program created specifically for cancer survivors that is spreading throughout Canada and parts of the United States.
The brainchild of Dr. Nicole Culos-Reed, a cancer and exercise researcher at the University of Calgary, and Susi Hately, a yoga instructor, Yoga Thrive provides gentle, therapeutic yoga to people at all stages of cancer treatment.
"Our instructors know both cancer and yoga," Culos-Reed explained. "They not only learn the seven- week yoga program, they also learn about cancer treatments and side-effects."
Culos-Reed, herself a yogi for seven years, believes the 5,000-year-old practice, which strives to align breath with movement, is particularly suited to cancer patients.

Mars was not always red, according to a new theory for how the planet took on its characteristic ruddy hue.
(HealthDay News) — A topical cream for erectile dysfunction shows promise in animal testing and could become an alternative for men who can't tolerate the pill form of the drugs, U.S. researchers report.
Google+ Comments