Okay…I'm not making any of this up.
Remember the runner who kicked butt last month only to have her sexuality questioned? There is unnofficial word out now that South African runner Caster Semenya has both male and female organs. The Sydney Morning Herald in Australia and The Sun newspaper in Britain reported that gender tests ordered by the International Association of Athletics Federations (IAAF) show the 18-year-old is a hermaphrodite.
The IAAF issued a statement, saying no decision on the case will be announced until the experts can look at the results.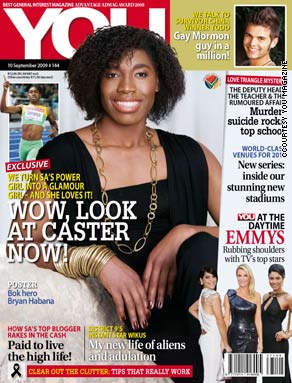 The front cover of You magazine shows Semenya after a recent makeover.
A final decision regarding the case is not expected before the IAAF Council meets in late November in Monaco, the IAAF said.
Check these revengers out….

These three women face trial for staged motel tryst ending with glued penis.
It ended with a man tied to a bed and his penis super-glued to his stomach.
The man's wife and two of his girlfriends hatched a plot to lure him to a Stockbridge motel on July 30 and confront him after learning that he was having "sexual relations" with all of them, a criminal complaint states.
The man went to the hotel on July 30 to meet one of the women, who told investigators that she met him on Craigslist and fell in love, paying for their hotel rooms and lending him $3,000, the complaint says.
While we are on the subject…..a court delays ruling on woman in penis-chopping case

A Turkish woman accused of cutting off her lover's penis must wait 18 months for a verdict and sentencing while a court determines whether his re-attached penis still functions, a court source said Thursday. They are waiting to see if the 28-year-old victim has regained full use of his organ or if he is permanently disabled . Surgeons worked for 11 hours to re-attach the penis in an operation which they described as successful, and said full sexual function should return within six months.
The defendant told the court she cut off her former lover's penis and threw it onto the roof of a neighboring building while he was drunk.
You know who is cool?????
Follor your heart over to VGNO!
Google+ Comments