Someone had to do it…
I admit it. I shop at Walmart. It's a one-stop shop of convenience more than anything for me.
Think of it as the Post Secret of Walmart.
It's a blog where people post, and make fun of, well, those people that we all make fun of. They show pictures of out-of-shape, poorly dressed and other not so attractive individuals shopping at Walmart.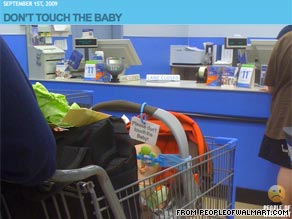 The site has been around for less than a month and it's the hottest thing out there. Wonder why….
"People of Wal-Mart," was a gag started by two 20-something brothers and their buddy to share crazy pictures with their friends.
"I'm still baffled — I really am," said Andrew Kipple, 23, one of the creators of the site, who said his team was frantically working Wednesday to add enough server space to handle the surge in traffic.
Their site was keeping up when it was getting about 500,000 views a day, but got swamped by a new spike in traffic late last week. The site was getting two or three photo submissions a day until last week.
It's worth the visit if you can get on.
What's the craziest thing you've ever seen at a Walmart?
Google+ Comments