Good news…..there is a new giant rat species that has been discovered.
The fella lives in a remote rainforest in Papua New Guinea.Measuring 82 centimeters (32.2 inches) from nose to tail and weighing around 1.5 kilograms (3.3 pounds), the species is thought to be one of the largest rats ever to be found.
The discovery was made by a team from the BBC Natural History Unit inside the crater of Mount Bosavi — an extinct volcano in the Southern Highlands province of Papua New Guinea.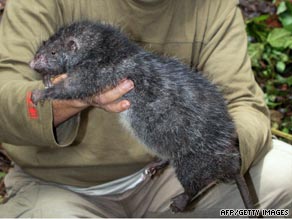 Other rats in the news…..
Brad Pitt loves to pamper his children and even their pet rats lead a luxurious life with the actor spending 50,000 pounds on building a playhouse for them.

Rats can help us
lose weigh
t….For dieters, the benefits of exercise may go beyond calories burned, a new study suggests.Exercise may ward off weight gain after dieting by reducing appetite, preventing fat cells from accumulating and by prompting the body to burn calories from fat before burning calories from carbohydrates, reducing feelings of hunger, research finds.

The study was published recently in the American Journal of Physiology — Regulatory, Integrative and Comparative Physiology.Researchers put obesity-prone rats on a high-fat diet for 16 weeks, during which time they ate whatever they wanted and did not exercise.Later, rats were put on a low-fat, low-calorie diet to shed 14 percent of their body weight. Rats were then kept on the diet for eight weeks to maintain their lower weight.
Here is a guy who says
"Our dog was killed by rats from next door's rat-infested garden' .

Malcolm Welborn and his partner Jackie Carswell in their back garden on Hilton Street, West Bromwich

Read more: http://www.dailymail.co.uk/news/article-1211766/House-proud-neighbours-claim-doors-rat-infested-garden-killed-dog.html#ixzz0QVwIPpOZ
Jon Gosselin spent Labor Day with the kids and it seems. minus any nanny's, sitters, girlfriends or whatever.
"It's just me, solo again," Gosselin, who is sharing custody with his estranged wifeKate, told PEOPLE at his Wernersville, Pa., home on Monday as his eight kids played nearby.
The estranges hubby is now sporting a black Mercedes ML350.
"I needed a car for the winter," said Gosselin, who is leasing the vehicle, delivered Saturday.
He also owns a black BMW. Ahhh….what a dad….

Google+ Comments