Welcome to the September 24th version of Thursday Thunks!
(which we always seem to post on Wednesday)
a little bit before you blog!
This week we will answer some crazy questions brought to you byKimber, the number 1172007 and the color of the walls in an asylum.
1. Does soap or shampoo have to really lather up for you to feel that it cleaned throughly?

Nope. Not all were made to lather.
2. Do you have a long standing joke with someone that you still laugh about every time you talk to that person?
Yep…my kids and I often, daily, joke about my husband's lack of time and it's management. If he says he'll be home at 6, we'll see him about 6:45 or so.
3. Share something that happened to you this past week that was unusual.
I ditched school (one class) today because I was so busy messing around on the internet.
4. If you dropped a purple crayon and a green crayon off a roof, which would melt faster in the sun?

There's like a ton of depends with this question. My answer is they'd both fall into my pool and thus, never melt.
5. You are standing in line (grocery store, bank, etc.), and someone gets in line behind you that stinks. The stink is so bad that people in line in front of you turn around and look to see if you are the one causing the stink. Do you cover your nose, hold your breath, breathe through your mouth or just get out of line altogether?

If it's Walmart, I grab one of those tiny spray bottles of Fabreez that are sitting there in the aisle as impulse items. I'd accidentally mis-spray it while testing it.
6. If you dropped your cell phone in the toilet, would you fish it out? If so, how much soap would you use to wash your hands afterwards?
Okay, this happens to people all the time. How the heck does it happen? What's with people who need a cell phone to pee?
7. Sydney Australia dust storm (
link
). How long do you think it would take you to clean your house after that sort of dust storm?
We kinda get a dust storm every year when the farmers harvest their corn/soybeans. It takes a while to get the junk off of the windows etc.
8. Do you think you can dance?
9. You are out to eat and someone across the room is staring at you. Do you get paranoid, try to ignore them, or go find out why they are staring at you?

Flip them off? Make a funny face? Pick my nose?
Actually, I probably would never even notice.
10. Come up with a crazy, wacky Thursday Thunk question.

nonthunkers…..what would be a great question? thunkers…..what's the best thunk question ever?
13 Things in the news that you may have missed…………
SYDNEY (Reuters) – For bored commuters with already bulging pockets, a shirt design company has come up with the perfect solution to keep them entertained on the trip to work — a commuter tie with a hidden iPod storage pocket
2.
LONDON (Reuters) – A British store is launching a range of underpants for left-handed men, an innovation it says will save them both time and embarrassment in front of the porcelain. Full Story »
3.Guess who's got a book out…….
Former child star Mackenzie Phillips said Wednesday her father, John Phillips, who was a leader of the 1960s pop group the Mamas and the Papas, raped her when she was a teenager and that her sexual relationship with him later became what she termed "consensual." Full Story »
"I woke up that night from a blackout and found myself having sex with my own father," Phillips read aloud from her book, "High on Arrival," during the hour-long interview with Winfrey.
"I came out of that blackout and realized what was happening. … I slid right back into it and woke up the next morning in my own hotel room and not with him," she continued to read. "Your father is supposed to protect you, not [expletive] you."
John Phillips died in 2001.
Phillips, now 49, said she was 17 or 18 the first time she can remember having sex with her father.
4.
NEW YORK – The first posthumous release of a new Michael Jackson song, "This Is It," is scheduled for Oct. 12. Full Story »
5.
LAKE WORTH, Fla. – Authorities say a 91-year-old South Florida man jumped out of bed naked and held an intruder at gunpoint until deputies arrived. Full Story »
6.
Dad admits killings to reporters, blames crime on 'spirit'
A Florida man admitted to reporters that he killed his wife and five "innocent" children, adding that he wants to be executed "right away" so he can be buried with them on Saturday. The man says he wanted to take his own life, but did not have the courage to go through with it, "because if you kill yourself, you're not going to heaven."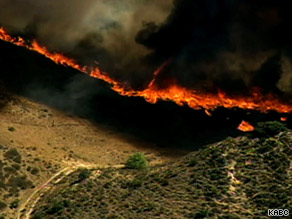 The fire was 20 percent contained Wednesday after burning 9,700 acres, a CalFire official said.
The Guiberson Fire, named after the road near its point of origin in Ventura County, was blazing for a second day Wednesday and lapping at the northern edge of the town of Moorpark. The fire was 20 percent contained after scorching more than 15 square miles, or about 9,700 acres, Lewin said.
8.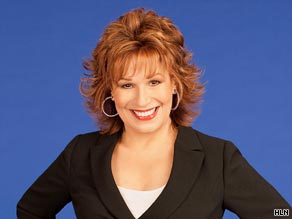 Joy Behar says Ukranian officials are wrong to try to block Elton John from adopting a 14-month-old boy.
10.

"The doctor told me in one sentence, 'Carolyn is pregnant, but we transferred the wrong embryos,'" he said. "I didn't even know that could physically happen. It was a total shock, totally beyond the realm of possibility."
11.
12.
Someone wrapped the cat, head to toe, in duct-tape and then dumped her in a North Philadelphia yard. The woman who lives in the house on the 2200 block of Edgley Street just happened to notice the cat when she looked out her window.
13.
Sarah Michelle Prinze and husband Freddie Prinze Jr. are parents, PEOPLE has learned exclusively.
Freddie Prinze Jr. and his wife Sarah Michelle Prinze are first time parents.
The couple "welcomed their daughter Charlotte Grace Prinze on Saturday, Sept. 19," said a rep for the actress. "The family is over the moon."

Google+ Comments