Lucy Vodden, who provided the inspiration for the Beatles' classic song "Lucy in the Sky with Diamonds," has died after a long battle with lupus. She was 46.Vodden's connection to the Beatles dates back to her early days, when she made friends with schoolmate Julian Lennon, John Lennon's son.
Julian Lennon, then 4 years old, came home from school with a drawing one day, showed it to his father, and said it was "Lucy in the sky with diamonds."
Alcohol abuse, obesity and depression seem to go hand in hand for many women, according to the first study to look at how the three relate to one another over time in young adults.Women who had alcohol use problems at 24 were nearly four times as likely to be obese at 27, while being obese at age 27 more than doubled the risk of depression at 30.And lower-income individuals of both sexes were at greater risk of depression and obesity.A tendency to "ruminative coping"-in which a person replays and obsesses about negative events-may be one of the traits that links alcohol abuse, obesity and depression.
After a whirlwind six-week courtship, the Lakers forward is engaged to be married to reality TV star Khloe Kardashian.
"Khloe and Lamar want to get married before Lamar has to go away for training, and the season starts up [this fall]," a source told Us Weekly. "They are hoping to pull together a wedding within the next few weeks so they can get married and have a honeymoon."
According to People, Kardashian, 25, walked down the outdoor aisle in a Vera Wang gown on the arm of her stepfather, Bruce Jenner, with sisters Kim and a pregnant Kourtney at her side.
Join the Unmom for Randomness on this Tuesday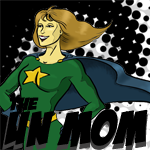 Google+ Comments