Ivy Bean turned 104th yesterday.
She could be Twitter's oldest user. That knocks down any theories from baby boomers who claim they are too old to Tweet.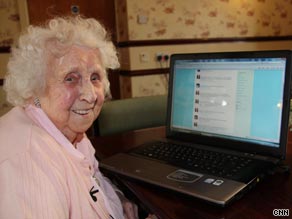 Ivy Bean has 27,000 Twitter followers and tweets from the care home where she lives in Bradford, England. Before getting onto Twitter, Bean was already active on Facebook, where she maxed out her 5,000-friend limit in no time. Why are there limits anyway? The more friends you have the more you use thier stuff and see their ads that pay for their stuff.
Bean says she prefers Twitter anyway because it's easier than Facebook . Like many of us, she has linked both accounts so that her tweets automatically show up on Facebook.
Ivy is a former mill-worker. She does not smoke or drink and said the secret to staying healthy and happy at 104 was an "ordinary life".
Ivy created her Facebook profile after hearing about a 97-year-old French woman who was believed to be the oldest member. A campaign has begun to let her add more friends after she reached the maximum number allowed after only a month on the site.
Her fan page has 16,000 members.
Do you use Twitter?
Google+ Comments