New Autism News
Two new government
studies indicate about 1 in 100 children have autism disorders.
Figuring out how many children have autism is extremely difficult because diagnosis is based on a child's behavior, said Dr. Susan E. Levy of the Children's Hospital of Philadelphia and a member of the
American Academy of Pediatrics
subcommittee on autism.
"With diabetes you can get a blood test," said Levy. "As of yet, there's no consistent biologic marker we can use to make the diagnosis of autism."
The new estimate would mean about 673,000 American children have autism. Previous estimates put the number at about 560,000.

Jon Gosselin is back in the news.
Jon could be found in contempt of court for the unauthorized withdrawal of $200,000 from the couple's joint bank account, Kate Gosselin's attorney told PEOPLE.
Celebrity lawyer Marty Singer, a litigation attorney for Kate, tells PEOPLE that Jon never warned Kate he was going to remove the large sum of money from their account last week, even though the court had told them not to take significant amounts from joint accounts without the other's approval.
Is your kids addicted to the internet?

Some children
and teens are more likely than their peers to become addicted to the Internet, and a new study suggests it's more likely to happen if kids are depressed, hostile, or have attention deficit hyperactivity disorder or social phobia.Past research suggests that 1.4 percent to 17.9 percent of adolescents are addicted to the Internet, with percentages higher in Eastern nations than in Western nations, according to the study published Monday in the Archives of Pediatrics & Adolescent Medicine.
Ever have one of these days?
Join the Unmom for more Randomness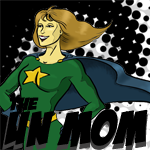 Google+ Comments