COMMUNITY GIVEAWAY CARNIVAL.
This community giveaway carnival is open to all bloggers and website owners. As long as you follow the guidelines here and you have a contest and giveaways, then join the fun.
Help us spread the word by grabbing our logo below. Just right click and then save us, then link the badge on this group.
{http://livinginstyle.ning.com/group/communitygiveawaycarnival }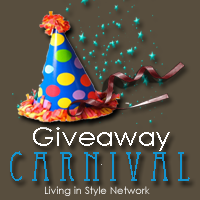 Google+ Comments